Vivera® Retainers in New York City / Manhattan
Your confident, beautiful smile took time, effort, and investment to create — either through traditional braces or the state-of-the-art Invisalign™ treatment — so don't let those teeth move and make sure your smile last with Vivera® retainers! No matter which treatment method brought you to that beautiful set of pearly whites, these advanced, comfortable retainers can benefit you the most in the long run.
Why choose Vivera® retainers?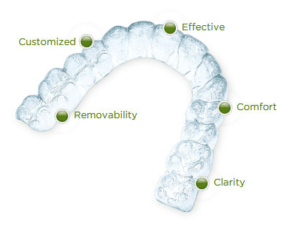 Especially after getting teeth straightening treatment through standard braces or state-of-the-art Invisalign™ procedures, straight teeth can gradually become crooked again, shifting back to their original position, without the use of retainers. Scientific studies show this is common across orthodontic treatments, but it's easily avoidable if you follow proper aftercare.
Wearing Vivera® retainers after your orthopedic procedure means you're keeping your beautiful smile just the way it is — preventing teeth from reverting to their old position and protecting your investment and your smile.
Advantages of Vivera® Retainers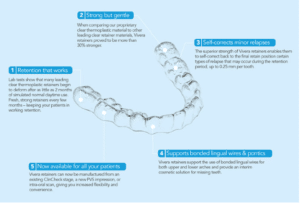 Vivera® retainers are made especially for you, coming custom with the same state-of-the-art advanced technology that we use to make Invisalign™ aligners. After one of our expert Manhattan dentists takes a scan of your teeth, we design a retainer with a precise and more comfortable fit.
What's more, Vivera®'s default material is 30% stronger than leading dental retainers, meaning they'll keep maintaining your teeth in the desired position for longer, reducing the risk of the retainer breaking or cracking.
Protect Your New Smile — Request Vivera® Retainers
Whether you were a patient of traditional metal braces and brackets or wore Invisalign™ retainers, aftercare for your teeth straightening treatment is important to maintaining that perfect smile. Ask one of our Rockefeller Cosmetic Dentistry specialists if Vivera® retainers are right for you by calling our Manhattan orthodontist office at (212) 581-1091 or scheduling a consultation on our request page here.