Invisalign™ for Teens
Straighten Your Teeth with Invisalign in NYC
Fred, 16 Talks about Invisalign
High school can be a difficult time for teenagers, especially when it comes to confidence in their smiles. Teeth that grow in incorrectly can cause a crooked smile, and large gaps and awkward spacing between teeth make students lose their confidence. Oftentimes, getting braces seems like the worst option — they're unsightly, uncool, and make it difficult to speak, talk, or take part in extracurricular activities.
Fortunately, with Invisalign™ Teen, your high school student can straighten their teeth without having to wear those embarrassing metal braces! Let your growing teenager grow without fear, free to enjoy the best years of his or her life without the extra pressure of having to hide that beautiful smile.
Invisible Braces Mean More Confidence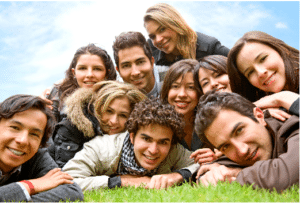 Aligners for Invisalign™ Teen are made of a clear, smooth plastic material that's nearly invisible. That means your teenager's friends probably won't even realize your child is wearing braces! Instead of having to hide behind a face full of metal, your teenager will be able to enjoy the confidence of smiling without hesitation, making for a better overall social life and quality of life in one of their most difficult times.
Removable Aligners Mean More Action
If your teenager is involved in extracurricular activities like marching band or sports (football, basketball, track, soccer, etc), braces might get in the way of their ability to play comfortably and safely. This is not the case with Invisalign(™) Teen.
Since Invisalign™ Teen is a series of removable plastic retainers, your teenager can take them out when they need to engage in their favorite activity. With this treatment, your child need not fear getting hit in the mouth with a ball or busting their lip trying to hit that high C on the trombone. Invisalign™ Teen allows them to play their hearts out, then put their retainer back in when the game's over!
Take Them Out and Eat Freely
The school lunchroom essentially determines pecking order in high school — who you eat with and how you feel while eating means the world to your teenage student. That's why it's important for your teenager to feel confident when they eat. Thanks to Invisalign™ Teen, your child can now remove their retainer and eat freely, without discomfort, pain, or the need to avoid certain foods.
Unlike with braces, Invisalign™ Teen does not come with dietary restrictions. Plus, your child's aligners don't cause discomfort while talking, so they can keep on socializing even after lunch is over. This also means brushing and flossing is easier, too. So after meals proper oral hygiene is a snap! Try that with braces.
Request your Invisalign™ Teen Consultation Today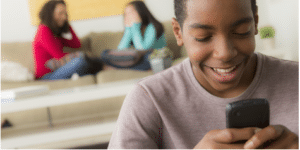 If you're ready to get your teenage child back to smiling confidently and proudly, don't hesitate to call our Manhattan cosmetic dentist office about the best straightening treatment near you! Visit our consult request page or call (212) 581-1091 to request your child's free consult today, so we can get him or her back to smiling!
Is your teenager already finished with his or her realignment treatment? Don't forget to maintain that healthy, beautiful smile with a strong, stable retainer. Ask one of our dentists about Vivera® retainers today!