Laser Dentistry in New York City / Manhattan
Many people are apprehensive about visiting their dentist out of fear of painful, uncomfortable procedures, long wait times, and healing periods that seem to take an eternity, but with new technologies in dental surgery, these fears are rapidly becoming feelings of the past.
At Rockefeller Cosmetic Dentistry, we pride ourselves on staying one step ahead of the curve, which is why we've revolutionized the way we perform gum surgery. Our state-of-the-art dental lasers are safe, highly effective tools than can be used in many dental procedures in the place of traditional methods, providing faster, minimally invasive procedures that take less time to recover from!
Our dental lasers are used to remove or shape gum tissue, and have several advantages over traditional treatment. What's more, they are helping to remove the stigma around routine dental procedures that have traditionally been known to be deeply uncomfortable, meaning more patients are flocking to our doors and taking better care of their dental health as a result!
Advantages of Laser Dentistry over Traditional Methods
Uses of Laser Dentistry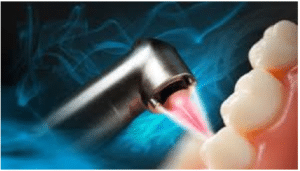 Laser equipment has taken on the role of many traditional dental tools, expediting and easing the process of restoring your teeth and smile to their natural beauty.  The uses of lasers in cosmetic dental procedures range from tissue shaping during crown lengthening procedures to reattaching gum tissue in the LANAP procedure to complete laser gum therapy.
To find out if laser treatment is right for you, request an appointment for a consultation.
Types of Laser Dentistry
Waterlase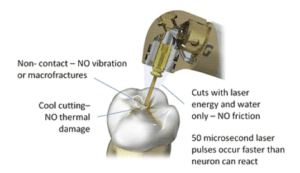 WaterLase© is a combination of water/air spray and leading-edge laser wavelength technology that can cut and shape gum tissue without generating any vibrations, pressure, or heat – all of which are unavoidable with a drill. Waterlase also allows for extreme accuracy – more precision in laser gum therapy than ever before.
What's more, the laser pulses of Waterlase© are too fast for your neurons to properly respond, and no vibrations and heat mean no pain or discomfort, making WaterLase© the ideal treatment for patients who experience nervousness or anxiety about dental procedures or fear of dental drills.
WaterLase© can be used in root canal therapy, preparation of cavities for fillings and restorations, removal of decay prior to fillings, and an array of procedures involving cosmetic dental design.
PerioLase
PerioLase is a dental laser that was specifically designed for LANAP® laser gum therapy with specialized features incorporated into its design to treat soft gum tissue. PerioLase is the most widely used dental laser and the first to incorporate digital technologies into laser gum treatment, revolutionizing the entire process.
With PerioLase treatment, there is no cutting or stitches involved. This makes for faster healing time and a minimization of post-treatment bleeding and swelling. If you have gingivitis or gum disease that needs treatment beyond scaling and root planing, PerioLase therapy can be an extremely effective and far less invasive option than traditional gum surgery.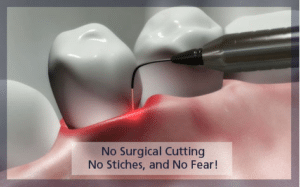 LANAP® Laser Gum Therapy
LANAP® laser treatment kills the disease-causing bacteria surrounding the teeth while removing diseased gum tissue and reattaching the healthy tissue to the root of the tooth, which seals off pockets and gaps at the gumline where bacteria can hide. LANAP® is the least invasive and most precise way to treat gum disease, and boasts fast healing time, the ability to save teeth that otherwise might be lost to gum disease, and a much higher rate of restoring and ensuring long-term gum health. Learn more at our LANAP® laser gum therapy page.
Request your laser therapy today!
If you've put off your routine 6-month dental check up or getting that surgery to complete your perfect smile out of fear of pain and discomfort in the dentist's chair, hesitate no more! With advancements in laser dentistry, you can finally rest assured that we can restore your teeth and gums with as little pain and as much accuracy as possible.
Visit our appointment request page or call Rockefeller Cosmetic Dentistry at (212) 581-1091 to request your consultation with one of our Ivy League trained Manhattan dentists. Relax and let us get you back to smiling!