Lumineers in New York City / Manhattan
Dental veneers are the most common and practical method for restoring and revitalizing your smile, but oftentimes the process of installing them can be painful and detrimental to the overall structure of your healthy teeth. Fortunately, our friends at Cerinate® have developed ultra-thin, ultra-durable Lumineers® that transform your smile without the need for shots, reshaping sensitive tooth structures, or pain!
These custom-designed pieces are easy and quick to install so you can get that beautiful smile you've always dreamed of in a fraction of the time! Proven to last for over 20 years, there's no better solution on the market today for repairing chipped, crooked, discolored, stained, or unevenly spaced teeth.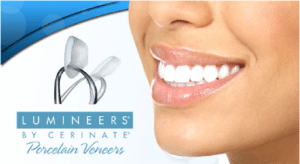 Schedule your complimentary consultation TODAY!
At Rockefeller Cosmetic Dentistry, our staff cares about treating our patients as painlessly as possible. In as little as two visits, we'll restore your smile to its stunning glory. Call (212) 581-1091 or visit our consultation request page. Don't wait another day to start smiling again!