Invisalign Manhattan
Invisalign™ is the perfect solution to all of the inconveniences of braces — from their unsightly, confidence-destroying aesthetics to the discomfort of wire frames — and can resolve issues with widely spaced or overcrowded teeth, misaligned bites (over-, under-, and cross-bites), and out-of-place teeth. Best yet, it's completely undetectable!
Comfortably Change Aligners at Home
The Invisalign™ treatment is comprised of several removable aligners that are individually and custom fabricated especially for your mouth. Like braces treatment, Invisalign™ is a series of steps to straighten your teeth, but instead of visiting a dentist every few weeks for uncomfortable tightening, you simply switch to the next aligner in the series in the comfort of your own home!
As you move through the series of aligners, your teeth will slowly and comfortably move into the final prescribed position. Best yet, after it's all over, we have an advanced and equally comfortable set of retainers specifically designed for you: check out our Vivera Retainers page for more information.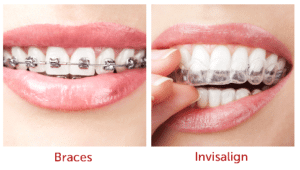 Advanced Planning Means Advanced Results
Prior to Invisalign™, we will create a computer generated virtual treatment plan so that you can see the final result before you begin treatment! Using our state-of-the-art 3D scanners and advanced imaging software, we're able to paint a map of your teeth — from present to future. That way, you can see every step of the process before it happens and get a clear image of what your teeth will look like thanks to this amazing treatment process.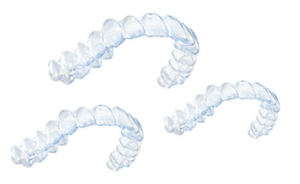 Learn More About Invisalign NYC
If you want to transform your appearance and confidence through improving you smile but are hesitant to sign up for a year or two of metal braces to do it, Invisalign™ is the easiest, most comfortable, and least-visible answer.
We're just as excited as you to get your teeth on the way to that perfect smile. Visit our consultation page or call us at (212) 581-1091 and get started today.